FOR IMMEDIATE RELEASE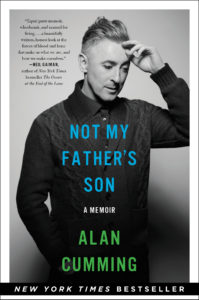 Award-winning actor, writer, director Alan Cumming joins Palm Beach Book Festival
PALM BEACH, FL – New York Times bestseller "Not My Father's Son" by Alan Cumming will be featured in the third panel at the Palm Beach Book Festival. Chosen as the festival's "Memoir of the Year" author Alan Cumming will join Christopher Bonanos, senior editor at New York Magazine.
A beloved and award-winning star of stage, television, and film—"one of the most fun people in show business" (Time magazine)—Alan Cumming is a successful artist whose fearlessness and diversity are unparalleled. His childhood, however was marred by the heavy rule of an emotionally and physically abusive father—a relationship that tormented him long into adulthood. It wasn't until the death of his father that Alan was able to fully lay bare the torment of his turbulent childhood.  He does so with beauty and his signature wit in Not My Father's Son (Dey Street Books; October 7, 2014.)
When television producers in the UK approached him to appear on a popular celebrity genealogy show (Who Do You Think You Are?) in 2010, Alan enthusiastically agreed, hoping the show would solve a family mystery involving his maternal grandfather, a celebrated WWII hero who disappeared in the Far East. But as the truth of his family ancestors revealed itself, Alan learned far more than he bargained for about himself, his past, and his own father.
With ribald humor, charm, and incredible insight, Alan seamlessly moves back and forth in time, integrating stories from his childhood in Scotland and his experiences today as a celebrated actor. At times suspenseful, at times deeply moving, but always incredibly brave and honest, Not My Father's Son is a powerful story of embracing the best aspects of the past and triumphantly pushing the darkness aside.
About the Palm Beach Book Festival
The Palm Beach Book Festival will be April 11, 2015 at the Norton Museum of Art in West Palm Beach. The festival will consist panels, lectures and special events involving New York Times bestselling authors, award-winning writers, household names and local authors. The event will close with a special closing night party where the public will be invited to spend an evening with wonders of the literary world at the newly renovated Colony Hotel in Palm Beach. A full agenda and tickets are available at www.palmbeachbookfestival.com
###